It's arrived again, and as years pass, it isn't getting any easier, I have a
very
difficult time dealing with 9/11. My heart breaks on this date every single year, and I fight the images that were imprinted on my mind from that horrendous day. I stayed affixed to the television for a week straight following the tragedy; it was my only way of reaching the people whose lives were forever changed. It was my only way of feeling connected with the victims and deceased, what were their names?, were they married?, how old?, did they have children? For the victims that lived, so emotionally, (and many) physically scarred, between the horrible injuries that were endured and horrific things witnessed that day, what were their stories? The death toll number meant nothing to me, I wanted to know about each individual, they were not just a number. So, my only way of honoring each of them was to watch hours upon hours of television and learn about as many of them as I could. I know it may sound strange, but I didn't want to hear the "final death toll number" and not remember as many individual stories as I possibly could, each and every one of them deserved to be remembered.
Sadly, many who perished on that awful day were New York's & New Jersey's first responders. I have a special place in my heart for the beautiful souls that have devoted their lives to assisting those in need, this includes doctors, nurses, care-takers for the elderly, veterinarians, the list goes on-and-on, but it's the first responders that really yank at my heart strings. I am referring to the EMTs, firefighters, police officers and even 911 operators. These people are present and assisting us during some of our worst moments in life. They are not only helping us in a physical sense, but a big portion of their job is to emotionally calm us down, reassure us, be sweet with us, to be our family until our actual families arrive.
I unfortunately had to call an ambulance for my daughter, Chelsea, when she was just 6 weeks old. Chels had contracted RSV, which we had confirmed at her pediatrician's office one January morning, but in a matter of hours she began to turn dark gray, froth at the mouth, and refuse to eat. I contacted her pediatrician again and immediately was instructed to get off the phone and call 911. Unbeknownst to me at the time, RSV can quickly turn deadly in very young infants and 6 week-old Chelsea was losing her battle. Dealing with overwhelming fear, I was an absolute wreck when the paramedics arrived just 3 minutes later!!! They greeted me at my door, got us both into the ambulance and we were off to the hospital. Those 2 paramedics calmed me down, reassured me that she was going to be fine, they rocked my baby girl, sang to her, held her tiny fingers, and stabilized her vitals the best that they could.......I will never forget them or stop appreciating what they did to physically help my daughter and to emotionally calm me.
The first responders are there during periods of fear, anxiety, anger, danger; they virtually see it all and have made it their job to take care of us and love us. Whether we were in a car accident, a house fire, a domestic altercation, fell ill, these men and women try their hardest to bring us to safety no matter what the circumstances are.
While we are on this topic, the amazing first responders at the Boston Marathon bombing saved so many victims that may have perished if it weren't for their quick thinking & fast acting. These responders were incredibly brave, and I am so thankful for them!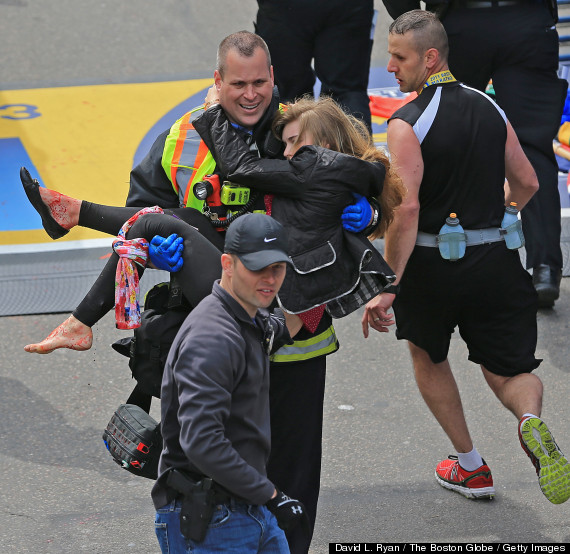 So a big
thank you
today to the beautiful souls that have made it their mission in life to keep us safe, you are God's physical angels here on earth.
May God bless America!